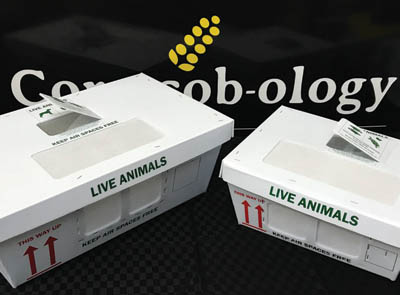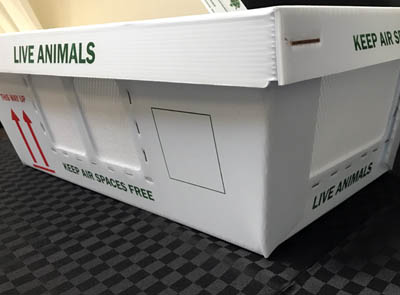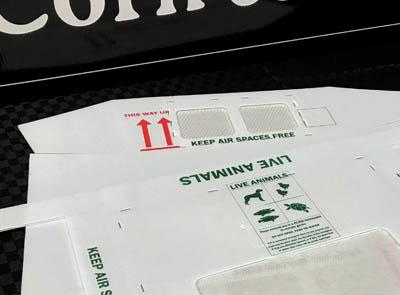 Cob-ology
Live Animal Shippers
The best quality shipper on the market by far. With a competitive price!
Our shippers are manufactured in Australia and were designed in consultation with one of the largest shippers of live animals here in Australia.
Corncobology Animal Shippers are designed to maximize the health, comfort and security of animals during transport. They comply with all IATA regulations. All our boxes are constructed with the highest quality materials ensuring we supply the best live animal shippers, hands down!
Corncobology Animal Shippers come in small and large sizes. Our lids can be supplied with or without viewing windows, and dividers are available in both sizes. All ventilation windows are fitted with clean air filters and strong metal mesh with folded edges to keep animals secure and safe.
Our shippers are easy to construct, autoclavable and wash resistant. Corncobology Animal  Shippers can be supplied flat packed or pre-constructed ready for use.
QUALITY
We supply the best quality live animal shippers on the market ensuring that animals are safe and secure. The same quality each and every time. Our regular quality control initiative guarantees it.
SERVICE
Our aim is to form a relationship with all our customers. By getting to know your requirements and listening to your needs we can pre-emt your orders going above and beyond our competitors.
SUPPLY
Our shippers are manufactured right here in Australia to ensure the highest quality. We will work hard to meet your requirements and shippers can be supplied flat-packed or constructed.
PRICE
We understand the importance of keeping your costs down. As we are small Australian based company this assists us to bring you the very best price and we make sure you reap the benefits.