Corncobology Plastic Tray Inserts
Custom disposable tray inserts.
Great for cleaning tough cages and excellent value-add for work safety.
Tray inserts are perfect when sensitive disposal is required. Just lift, bag and autoclave out.
Corncobology tray inserts are a real time saver.
They can be pre-filled with bedding and/or enrichment and will arrive irradiated ready to go. Just pick and drop in place. A real quick turn-around to minimise animal handling and reduce animal stress.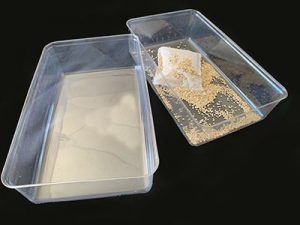 Cob-ology Plastic Tray inserts
Disposable tray inserts in custom sizes.
Available pre-filled with bedding and enrichment.
Save water, save time and reduce stress.
Made from PET plastic and supplied irradiated.
QUALITY
We supply a range of products suitable for your animals. The same quality each and every time. Our regular quality control initiative guarantees it.
SERVICE
Our aim is to form a relationship with all our customers. By getting to know your requirements and listening to your needs we go above and beyond our competitors by anticipating your stock and future orders.
SUPPLY
Our continual supply chain ensures your products are available whenever you need it. We will work hard to meet your requirements and tailor packaging and transport solutions as required.
PRICE
At Corncobology we understand the importance of keeping your costs down. We regularly dedicate time and resources to ensure we keep prices affordable so you can reap the benefits.